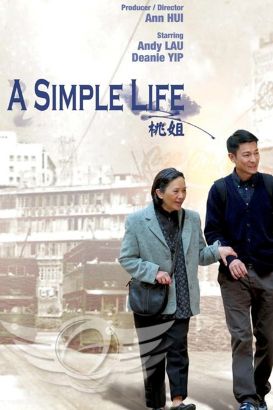 Movie:
A Simple Life
Director:
Ann Hui
Produced by:
Bona Entertainment Co. Ltd., Focus Films Ltd., Sil-Metropole Organisation Ltd.
Released By:
China Lion Entertainment, Distribution Workshop (HK) Ltd.
MPAA Rating:
–
A man must care for a woman who has devoted her life to looking after him in this drama from filmmaker Ann Hui. Roger is a successful movie producer with a housekeeper, Ah Tao, who has worked for his family over the course of four generations. Ah Tao has been a nanny and maid for Roger's family for nearly all her adult life, and he looks upon her as a member of the family rather than an employee. When Roger comes home one day to discover Ah Tao has suffered a severe stroke, its' clear she's no longer up to the demands of her job, and he agrees to help her relocate to a nursing home. Roger, the only member of his family still living in Hong Kong, is eager to help, but he's unsure of just how much he's supposed to do for her and is afraid to seem neglectful, Ah Tao, on the other hand, doesn't want to be a burden to Roger, and their relationship goes through an awkward period as their roles reverse and he becomes her caregiver. Set against the backdrop of the Hong Kong film industry, Tao Jie features cameos appearances from such luminaries as Sammo Hung and Tsui Hark.