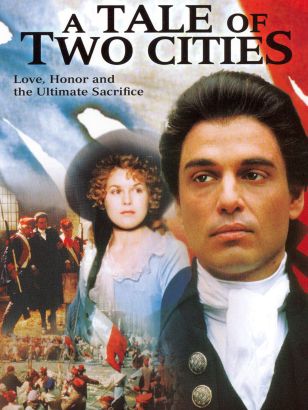 Movie:
A Tale of Two Cities
Director:
Jim Goddard
Produced by:
Franco London Films, Marble Arch Productions, Norman Rosemont Productions
Released By:
–
MPAA Rating:
NR
Chris Sarandon does the "far, far, better thing" when he tackles the dual role of Syndey Carton and Charles Darnay in this Anglo-American TV adaptation of Charles Dickens' A Tale of Two Cities. The ubiquitous producer/screenwriter combination of Norman Rosemont and John Gay was responsible for this lavish, faithful cinemazation of Dickens' multiplotted account of the French Revolution. Featured in the huge cast are Peter Cushing as Dr. Manette, Alice Krige as Lucie Manette, Billie Whitelaw as the vengeful, eternally knitting Madame DeFarge and Barry Morse as the odious aristocrat St. Evremonde. Poignantly, the film also offers the late Kenneth More, making one of his last appearances as Jarvis Lorry, and the magnificent Flora Robson, taking her final bow in the role of Miss Pross. An Emmy nomination went to Olga Lehmann's costume design. A Tale of Two Cities debuted December 2, 1980.