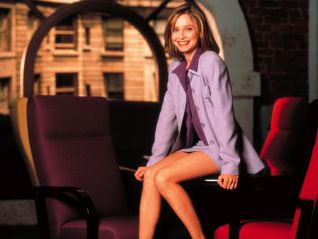 Movie:
Ally McBeal [TV Series]
Director:
–
Produced by:
20th Century Fox Television, David E. Kelley Productions
Released By:
FOX
MPAA Rating:
–
Ally McBeal, despite low expectations from the network, proved to be a highly successful endeavor from writer/producer David E. Kelley. The notoriously tiny Calista Flockhart's neurotic portrayal of Ally fueled the show for five seasons, though it could not have lasted nearly as long without the insights of its eccentric supporting cast. Unique for its forays into the surreal, Ally McBeal as a show is as conflicted as its starring character. Half feministic endeavor, half a frustratingly traditional portrayal of lovelorn women, Ally McBeal danced precariously between law dramas of a more serious nature and Bridget Jones-esque "chick-shows." The series centered around the life of Ally McBeal, the quintessential "little girl lost," who, after graduating with a law degree from Harvard University, found herself in a law firm populated by an extraordinarily unconventional staff, including but not limited to Billy Thomas, her high school sweetheart. The show's premise allowed for quite a bit of creative freedom, and most episodes switched seamlessly from the thought-provoking to the absurd. Ally's quest for love and emotional fulfillment made for the heart of the series, along with the dark undertone of her often-questionable sanity.