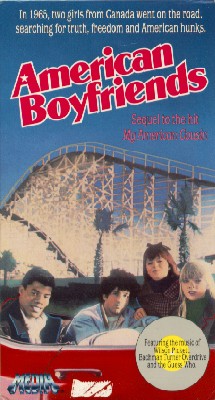 Movie:
American Boyfriends
Director:
Sandy Wilson
Produced by:
First Choice Entertainment, Telefilm Canada
Released By:
Alliance Atlantis Communications
MPAA Rating:
–
This semisweet backwards glance at 1960s impulsiveness stars Margaret Langrick as a Canadian college freshman. She undergoes a bit of a culture shock when her white-bread values are challenged by her new hippie friend Liisa Repo-Martell. With a trio of her new and old chums, Langrick heads to Portland to attend a wedding. Once they arrive at the ceremony, the girls wreak a little bit of sexual havoc amongst the male guests before deciding to journey on to California. Thus a pattern is set for the previously shy and sheltered Langrick of letting her heart rule her head-a pattern ending up as far afield as Europe! American Boyfriends was the sequel to the equally fey, funny and freewheeling My American Cousin.