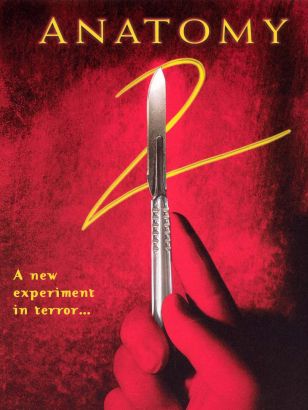 Movie:
Anatomy 2
Director:
Stefan Ruzowitzky
Produced by:
Claussen & Woebke Filmproduktion, Deutsche Columbia Pictures Filmproduktion
Released By:
Columbia TriStar Germany
MPAA Rating:
R
An ambitious, working-class medical graduate with dreams of becoming a research physician arrives in Berlin eager to begin his internship at a reputable clinic in director Stefan Ruzowitzky's sequel to his 2000 sleeper Anatomie. Motivated by his desire to provide patients with human warmth often lacking in medical treatment, and driven by his desire to discover a cure for the rare muscle disease that has crippled his brother Willi, Jo eagerly begins his internship as scheduled. When Jo is approached to perform an unauthorized operation on the daughter of a colleague, he initially refuses, only relenting after personally witnessing the graveness of her situation. His successful operation and detailed dissertation drawing the attention of Professor Mueller-LaRousse, the charismatic Mueller-LaRousse subsequently invites Jo to join in weekly gatherings in his "research salon." As Jo becomes a member of Mueller-LaRousse's elite group of talented physicians, the stress of his internship is soon lifted, replaced by a compromising situation that may not only cost Jo his career, but his life as well.