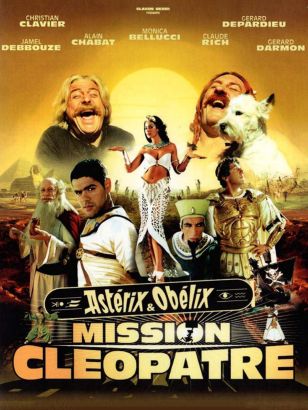 Movie:
Astérix et Obélix: Mission Cléopâtre
Director:
Alain Chabat
Produced by:
Chez Wam, CP Medien, Erste, Katharina, Pathé Films, Renn Productions, TF1 Films, Zweite & Vier
Released By:
Miramax
MPAA Rating:
–
Based on the original '60s French comic books by René Goscinny, Astérix & Obélix: Mission Cléopâtre is the big-budget sequel to the 1999 box-office hit Astérix and Obélix vs. Caesar. Empress Cleopatra makes a wager with Julius Caesar that her people can build a beautiful palace in three months. She chooses architect Numerobis for the project, which must be completed in time or he will be fed to the crocodiles. Numerobis travels to Gaul to get help from the superpowered Panoramix and the warriors Astérix and Obélix, along with their faithful pet Dogmatix. They use their magic potion to make the Egyptian slave-labor population into superheroes, thereby building the palace in no time. Meanwhile, the angry architect Amonbofis and Julius Caesar don't want to see them succeed. At the time of its release, Astérix & Obélix: Mission Cléopâtre was the most expensive French film ever made, with a budget of $50 million.