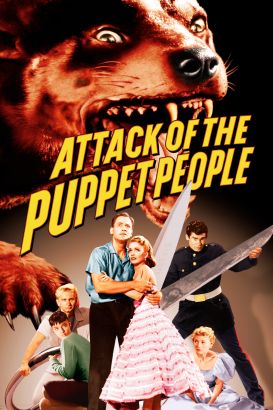 Movie:
Attack of the Puppet People
Director:
Bert I. Gordon
Produced by:
American International Pictures, James H. Nicholson Productions
Released By:
American International Pictures
MPAA Rating:
–
Attack of the Puppet People is one of the few "mad scientist" opuses of the 1950s to be motivated by loneliness rather than megalomania. John Hoyt plays Franz, a seedy European doll-maker who harbors a crush on his secretary Sally. When Sally makes plans to marry Franz' top employee Bob, strange things begin to happen. Before long, both Bob and Sally have been shrunken to doll-size by Franz, who keeps a retinue of living "puppet people" to avoid being left alone. Eventually, the little ones rebel against their addlepated but basically harmless keeper, though there's never any "attack" per se. Most of the acting is amateurish, with the exception of the always reliable John Hoyt, the special effects are somewhat better, but still nothing to write home about.