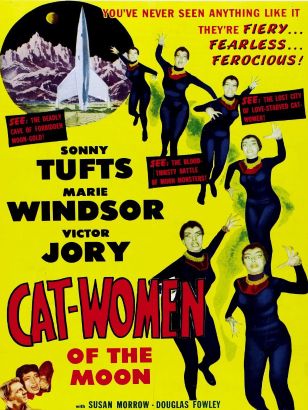 Movie:
Cat Women of the Moon
Director:
Arthur D. Hilton
Produced by:
Astor Pictures Corporation
Released By:
–
MPAA Rating:
–
Cat Women of the Moon tells the tale of a group of American space travellers who confront a hostile tribe of females on the border between the light and dark side of the moon. The expedition is led by Laird Grainger, whose polyglot crew–including co-pilot Kip Reissner and navigator Helen Salinger–land on the lunar surface, where they soon discover that there's an atmosphere and water and everything. After a few minutes of wandering, the travellers come upon a huge modernistic city, populated by leotard-clad "cat women". The ruler, Alpha, reveals that she has telepathically brought the earthlings to her city, using Salinger as her unsuspecting go-between. The cat women perform a kinky dance to the tune of "Stranger in Paradise," while the shifty copilot Reissner tries to steal the city's cache of gold. Alpha enslaves the visitors via mind control, leaving only cat-woman Lambda, who has fallen in love with crewman Douglas Smith, to save the day.