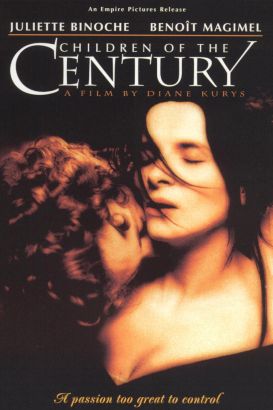 Movie:
Children of the Century
Director:
Diane Kurys
Produced by:
Alexandre Films, Films Alain Sarde, France 2 Cinema, Odeon Films
Released By:
Bac Films, Empire Pictures
MPAA Rating:
–
While pioneering pre-feminist author George Sand has been the subject of several film biographies focusing on her ten year relationship with Frederick Chopin, Les enfants du siècle looks at an earlier period in Sand's life, in particular her stormy romance with poet Alfred de Musset. In the early 1830's, Baroness Dudevant has abandoned her husband and arrives in Paris with her children in tow as rioting divides the city. The Baroness decides to reinvent herself and pursue a career as a writer, she renames herself George Sand, begins wearing clothes modeled after men's suits, and smokes cigarettes while penning manifestos denouncing marriage and affirming a woman's right to sexual satisfaction. Alfred de Musset, a noted author, finds her brash nature fascinating, and they become first friends, then lovers as he helps her craft her literary efforts. However, Sand is six years older than de Musset, which leads to a severe conflict with his family, the couple heads to Venice in search of escape and inspiration, but Alfred decides that he prefers the city's brothels to George's company and that they should keep separate rooms from now on. George makes the acquaintance of an Italian doctor, Pagello, with whom she has a passionate affair, the realization that he's driven her into the arms of another man proves too much for Alfred, who returns to France. Eventually, George leaves Pagello and gives Alfred another chance, a decision she comes to regret. Les Enfants du Siecle had its world premiere at the 1999 Toronto Film Festival.