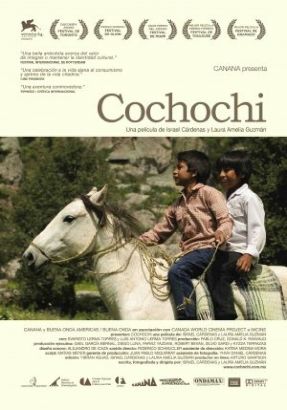 Movie:
Cochochi
Director:
Laura Amelia Guzmán / Israel Cárdenas Ramírez
Produced by:
Alcove Entertainment, Buena Onda, Canada World Cinema Project, Canana Films, Mexican Film Institute
Released By:
–
MPAA Rating:
–
Two young indigenous brothers from the La Sierra Tarahumara region of northwest Mexico return home from Benito Juarez elementary boarding school, only to find their fates pulling them in opposite directions in director Laura Amelia Guzmán's dramatic meditation on the value of culture and the cost of progress. Evaristo and Luis Antonio Lerma Batista have graduated from boarding school. Though 12-year-old Evaristo would like nothing more than to continue his education, learn Spanish, and lead a bicultural existence, his 11-year-old sibling couldn't see things more differently. Antonio is thrilled to be finished with school. Despite being a considerably bright student, Antonio would much rather spend his days on the family ranch than in the classroom. As both brothers take their tentative first steps into the adult world, they are assigned the task of delivering a package to a faraway community and lent the family horse to get the job done. After taking a wrong turn down a narrow and winding canyon, Evaristo and Antonio decide to tie the horse to a tree and attempt to find a way out. Upon returning some time later, the brothers discover that the horse is missing and they decide to split up. Now, as Antonio searches for the horse and Evaristo sets out to deliver the package, these two brothers will experience a side of Tarahumara culture that can't be taught in a classroom.