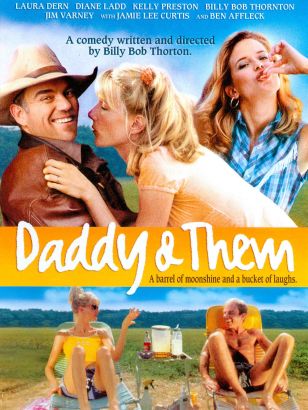 Movie:
Daddy & Them
Director:
Billy Bob Thornton
Produced by:
Industry Entertainment, Miramax, Shooting Gallery
Released By:
Alliance Altantis Vivafilm
MPAA Rating:
R
Billy Bob Thornton wrote, directed, and starred in this serio-comic look at the trials of an eccentric Arkansas family. Struggling musician Claude and his wife Ruby get the news that Claude's uncle Hazel has been accused of murder and is in jail awaiting trial. Claude and Ruby head for the Alabama town where they grew up, and, before long, there's a friendly war of words among the factions of the family, including Claude's mother Jewel, father O.T., and sister Rose. Daddy and Them's supporting cast includes Jamie Lee Curtis and Ben Affleck as a pair of married attorneys, Brenda Blethyn as Hazel's wife Julia, and Jeff Bailey, and John Prine as Claude's brothers. While Daddy and Them was shot in 1999 — and would have been his first directorial effort after his breakthough hit Sling Blade — the film stayed in the editing room for several years, and wasn't released until after his third feature, All The Pretty Horses.