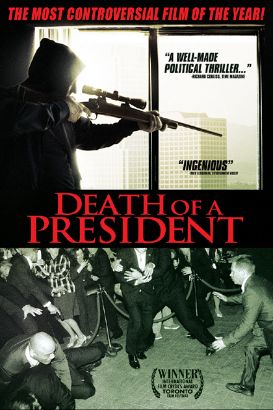 Movie:
Death of a President
Director:
Gabriel Range
Produced by:
Borough Films, FilmFour, World Pictures
Released By:
Maple Films (Canada), Newmarket Films (USA)
MPAA Rating:
R
The assassination of the most powerful leader in the free world is examined in this controversial mockumentary from British filmmaker Gabriel Range. On October 19, 2007, president George W. Bush is visiting Chicago when he impulsively stops to shake hands with supporters en route to a meeting, while a throng of protesters demonstrate nearby. Shots ring out, and Bush is fatally wounded. As America and its allies deal with the tragic loss of their leader, vice president Dick Cheney is sworn in as the new chief executive, and while he takes the reigns of the nation and pushes new and aggressive anti-terrorism legislation through Congress, the Federal Bureau of Investigation steps into action to track down the gunman. As Secret Service agents and law enforcement officers share their thoughts on how the murder of the president could have been avoided, and people around the globe discuss how Bush's death has tipped the delicate balance of relations between the United States and the Middle East, a Syrian Muslim activist living in Chicago, Jamal Abu Zikri, is charged with the murder of the president. While no "smoking gun" connects Zikri to the crime, a wealth of circumstantial evidence points to him as the gunman, and he's tried, found guilty, and executed in short order. However, lingering questions persist as some wonder if the F.B.I. found the right man with the right motives. Created using a combination of newsreel footage, computer-generated images, and newly staged material, Death of a President received the International Critics Prize at the 2006 Toronto Film Festival, despite negative reaction from many American political commentators, many of whom were deeply offended by the film's depiction of the assassination of Bush, the sitting U.S. president at the time of the picture's production and release.