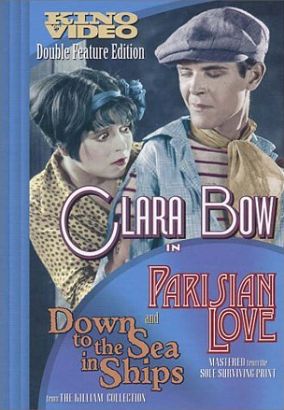 Movie:
Down to the Sea in Ships
Director:
Elmer Clifton
Produced by:
Hodkinson Pictures, W. W. Hodkinson, Whalin
Released By:
–
MPAA Rating:
–
This whaling drama is most famous as the screen debut of Clara Bow. Besides that, it is also solid entertainment, offering both the best and the worst that silent film had to offer. It's a period piece, taking place in a seaside town of the mid-1800s. Charles Morgan is a Quaker who owns a successful whaling business. He has lost his son to the sea and is raising his tomboyish granddaughter, Dot. Morgan wants his own daughter, Patience — Dot's aunt — to marry a Quaker whaler. Patience, however, is in love with Allan Dexter, the non-Quaker boy next door, who has just returned from school. Meanwhile, Jake Finner and Samuel Siggs are plotting to get Morgan's fortune. Siggs, disguised as a Quaker, goes to work for Morgan and convinces him that he should marry Patience. Dexter, however, loves Patience so much he is willing to change both his religion and his profession to win her. He winds up on a whaling ship, captained by the wicked Finner, gets involved in the subsequent mutiny, and harpoons his first whale. Dot has stowed away on the ship because she has a crush on one of the boys who is on the crew. Dexter returns home just in time to prevent Patience from marrying Siggs. Although Courtot spends most of her time merely looking pretty, there's a palpable chemistry between her and McKee — they actually fell in love in real life and married. With her vivacious personality and natural acting, Bow steals almost every scene she is in. She obviously had star quality, even this early in her career — something that did not go unnoticed amongst critics and filmgoers.