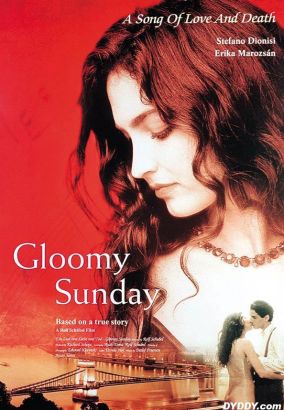 Movie:
Gloomy Sunday: Ein Lied Von Liebe Und Tod
Director:
Rolf Schübel
Produced by:
ARTE, Dom, FocusFilm, Magyar Televízió, Polygram, Premiere Film, Studio Hamburg Filmproduktion, WDR TV
Released By:
Menemsha Films, Universal Pictures Germany
MPAA Rating:
–
Rolf Schuebel makes his directorial debut with this subtly-told true story about one the 1930s' most memorable melodies. Set just prior to WWII, the film focuses on Hungarian beauty Ilona and her significant other Laszlo Szabo, a dapper owner of Budapest's finest restaurant. Though Ilona is known for her prowess on the piano, the two decide to hire a professional as the finishing touch on their classy establishment. They hire Andras, a taciturn man with a certain mysterious charm. Meanwhile, regular customer and German businessman Hans finds himself utterly and completely smitten with the vivacious Ilona. When she spurns his advances, he drunkenly jumps into the Danube. Laszlo manages to rescue him and the three grow to become close friends. At the same time, Andras and Ilona grow to be something more than friends, and — with the knowledge and approval of Laszlo — they become lovers. Later, Andras composes a tune dedicated to his new consort and Laszlo quietly arranges for a couple of Austrian record execs to come to the restaurant to listen. Oozing with jaded ennui, the song, sans lyrics, quickly becomes an international success, yet it also seems to cast a dark spell over listeners — people cannot help but commit suicide. In Hungary alone, 157 people killed themselves in the span of eight weeks. At the same time, the Third Reich marches into Austria. As the film progresses, Hans returns to Budapest, this time as an SS officer. There he offers Laszlo, who is Jewish, and who offers him free passage in exchange for money. This film was screened at the 2000 Berlin Film Festival.