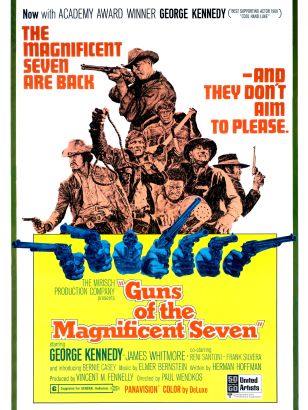 Movie:
Guns of the Magnificent Seven
Director:
Paul Wendkos
Produced by:
Mirisch Corporation, United Artists
Released By:
–
MPAA Rating:
G
Chris is the lone survivor of the original seven gunmen who is recruited to help in a peasant struggle in Mexico. Colonel Diegois the ruthless military commandant of a Mexican prison holding the leader of the revolt. With knife expert Levi Morgon and firearms experts Keno, P.J. and Slater, they enlist the help of the giant black man Cassie and two others to rescue the leader of the proposed revolt. The evil Diego employs his torturous and inhuman practices on both sides of the prison walls in a effort to stop the heroes from rescuing the prisoner in this action packed western saga.