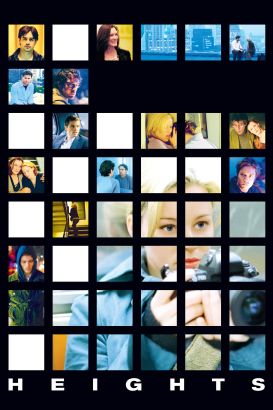 Movie:
Heights
Director:
Chris Terrio
Produced by:
Merchant Ivory Productions
Released By:
Sony Pictures Classics
MPAA Rating:
R
A handful of New Yorkers find their paths crossing in ways that force them to examine their lives in this contemporary drama produced by Ismail Merchant. Isabel is a twentysomething photographer who is supposed to marry her boyfriend, Jonathan, in a month. But Isabel has found herself wondering if marriage is the right thing for her. Meanwhile, her mother, Diana, a well-known film actress, has learned her husband has been seeing another woman, and while they have an open relationship, Diana finds this hurtful. Over the course of the day, Diana meets Alec, a handsome young actor, and Isabel is introduced to Peter, a journalist, and both women begin to question their current relationships. The first feature for director Chris Terrio, Heights also stars Michael Murphy, Eric Bogosian, Thomas Lennon, and Rufus Wainwright.