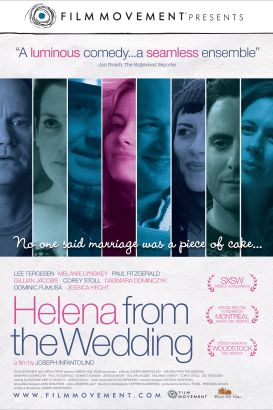 Movie:
Helena From the Wedding
Director:
Joseph Infantolino
Produced by:
Beech Hill Films, Cerca Trova
Released By:
Film Movement
MPAA Rating:
NR
The presence of an attractive single woman adds to the tension between several unhappily married couples in this independent drama. Alex and Alice are a newly married couple in their mid-thirties who have invited some friends to a cottage in upstate New York to celebrate New Year's Eve. Alex isn't feeling especially celebratory, as his career as a writer has hit a skid and he's feeling uneasy about his relationship with Alice, and his misgivings grow as he spends time with Don and Lynn. Don and Lynn are also married, and Lynn makes no secret of her low regard for Don, whose spirit seems to have been crushed by her incessant demands. A third couple attending the party, Eve and Steven, are also experiencing some trouble, Eve is expecting a baby, but also has reason to believe Steven is cheating on her. Eve and Steven have brought a friend along for the party, Helena, an attractive model younger than the rest of the guests. Nick, the only single man in attendance, is clearly attracted to Helena, but Alex, who met her several months before, is also infatuated with her, adding to the discord between himself and Alice. The first feature film from director Joseph Infantolino, Helena from the Wedding received its world premiere at the 2010 South by Southwest Film Festival.