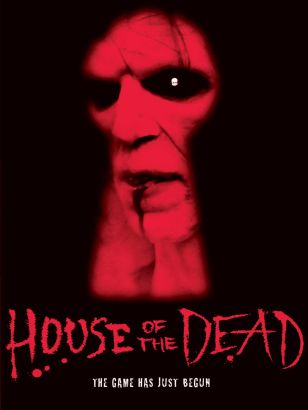 Movie:
House of the Dead
Director:
Uwe Boll
Produced by:
Boll KG, Brightfire Pictures, Herold Productions, Mindfire Entertainment
Released By:
Artisan Entertainment
MPAA Rating:
R
Adapted from the popular Sega arcade video game of the same name, director Uwe Boll's action horror effort finds a group of partying teens stranded on an island and doing battle with a new breed of unusually mobile zombies. Looking for a place to party away spring break, college students Cynthia, Greg, and Karma hear rumors of a rave on a remote island in the Seattle area. Rushing to catch the party boat, the teens pick up friends Simon and Alicia, but discover upon arrival at the dock that the boat has set sail without them. Offering a few dollars to a local captain to hitch a ride to the island, the teens reach their destination only to find it eerily silent with no party in sight. Things go from bad to worse when the group is attacked by a mysterious creature, and they are forced to seek refuge in an old dark house on the island shore. Subsequently running into a few familiar faces and learning to their horror that the rave had been overrun by a horde of terrifying zombies, the group must now make one final bid for survival over the course of a long, blood-soaked night.