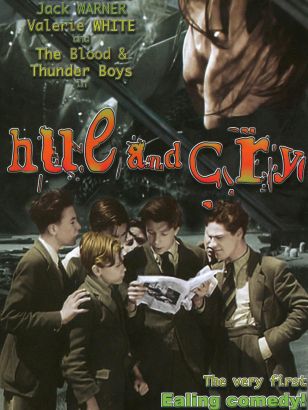 Movie:
Hue and Cry
Director:
Charles Crichton
Produced by:
Ealing Studios, Fine Arts
Released By:
General Film Distributors
MPAA Rating:
–
Alastair Sim is a delight to behold as always in the British Hue and Cry, but the film's true star is approximately 40 years younger and two feet shorter than the estimable Sim. Harry Fowler plays Joe Kirby, an intelligent cockney lad who is addicted to a weekly boys' magazine. He begins to notice a curious pattern emerging in the dialogue of a serialized blood-and-thunder detective story. And well he should: a gang of literate crooks are using that story to transmit information concerning robberies, smuggling, fencing, and the like. When the local constabulary refuse to take Joe's warnings seriously, he rallies his chums together to foil the crooks. Elements of Hue and Cry would later pop up in several American films, including the Bowery Boys' Angels in Disguise and the Jack Carson vehicle The Good Humor Man. This is only fair, since T.E.B. Clarke's screenplay is inspired in part by the old German perennial Emil and the Detectives.