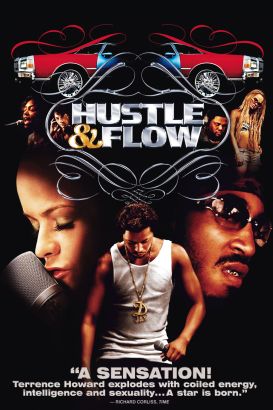 Movie:
Hustle & Flow
Director:
Craig Brewer
Produced by:
Crunk Pictures, Homegrown Films, New Deal Entertainment
Released By:
MTV Films, Paramount Classics
MPAA Rating:
R
One man's struggle to rise above his circumstances prompts him to try a career in music in this acclaimed drama from writer and director Craig Brewer. Djay is a low-level pimp and drug dealer who scraped together a living in the ghettos of Memphis, TN. Djay isn't happy with his life, and the realization that he's reached the same age when his father unexpectedly died has made him start thinking about changing his ways. Djay has always had a gift for spinning stories, and after picking up a cheap keyboard, he begins picking out beats to go along with his rhymes. After bumping into an old high-school buddy who works in gospel music, Key, Djay decided to take the plunge and remake himself as a rapper. With the technical know-how of Key and the musical input of a local beat maker named Shelby, Djay begins turning his way with words and his first-hand knowledge of the street life into music, as his two live-in girlfriends, Lexus and Shug, add their musical input and emotional support and Nola continues to turn tricks to pay the bills. When local boy-turned-nationwide hip-hop star Skinny Black comes to town to pay a visit to Arnel, a club owner friendly with Djay, he sees an opportunity to put his demo in the hands of someone who can bring his music to the masses, though it turns out to be far more difficult than he expected. Hustle & Flow had its world premiere at the 2005 Sundance Film Festival, where it received a number of rave reviews and took home the Audience Award.