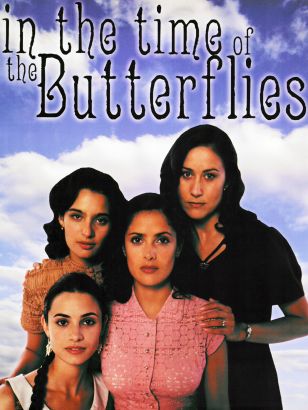 Movie:
In the Time of the Butterflies
Director:
Mariano Barroso
Produced by:
Barnstorm Films, Phoenix Pictures, Ventarosa Productions
Released By:
–
MPAA Rating:
PG13
Based on the book by Julia Alvarez, this fact-based drama tells the story of a woman who, along with her family, found the courage to defy a corrupt dictator — and paid a fearful price for their actions. Minerva Mirabal and her sisters Patria, Mate, and Dede are the daughters of Enrique, a man who owns a plantation and a small store in the Dominican Republic during the rule of the despotic Rafael LeónidasTrujillo. When several members of her family are killed by Trujillo's forces, Minerva pledges that she will some day win revenge against the dictator, though when the leader first encounters Minerva, it's after she helps foil a friend's poorly planned assassination attempt. After completing her schooling, Minerva meets Virgilio Morales, a professor of law at a state university who also works with an underground rebel group attempting to overthrow Trujillo. The two fall in love, and Virgilio helps to open Minerva's eyes to the extent of Trujillo's crimes, when Virgilio is forced to go underground as a result of his actions against Trujillo, Minerva pledges to follow his example and become a lawyer. However, Trujillo's head has been turned by the lovely Minerva, and the more he learns about her, the more he wants to seduce her, hoping to crush her fiery spirit. In time, Minerva attends law school, hoping to challenge the system from within, but upon graduation she discovers Trujillo has been keeping tabs on her actions and isn't about to allow her to practice law, an outraged Minerva vows to fight the corrupt dictator by any means necessary. Produced for the Showtime premium cable network, In the Time of the Butterflies first aired on October 21, 2001, leading lady Salma Hayek also served as executive producer.