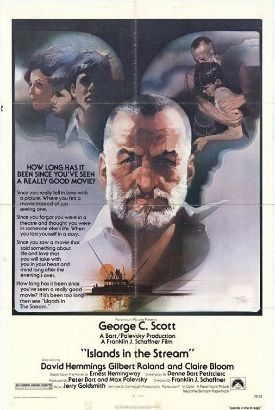 Movie:
Islands in the Stream
Director:
Franklin J. Schaffner
Produced by:
Paramount
Released By:
–
MPAA Rating:
PG
After a parade of top-heavy blockbusters, director Franklin J. Schaffner retreats, like the Hemingway character of the film, to peaceful tropical serenity in Islands in the Stream. George C. Scott plays the rich, but world-weary writer Thomas Hudson, living on Bimini in the Bahamas, where he carouses, drinks, and fishes to his heart's content. Invading Hudson's paradise is a parade of the sons of his ex-wives. His oldest son Tom succeeds in getting closer to his father, but the bonding comes to a halt as ripples from the encroaching conflagration of World War II intrude upon Hudson's retreat. Tom leaves the island to fight for the RAF. Then, one day, Hudson receives a visit from his ex-wife Audrey, who tells him that Tom has died in the war. Rejecting his insulated existence, Hudson decides to make a stand by agreeing to smuggle a group of Jewish refugees onto the island.