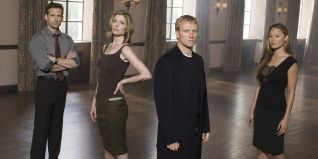 Movie:
Journeyman [TV Series]
Director:
–
Produced by:
20th Century Fox Television
Released By:
NBC
MPAA Rating:
–
A more somber spin on the Quantum Leap time-travel formula, NBC's Journeyman starred Kevin McKidd, late of the internationally popular miniseries Rome, as Dan Vasser, who thanks to a mysterious wrinkle in the cosmic continuum was forever vanishing into thin air and jumping backward in time. Dan's abrupt disappearances in The Present were a source of great bewilderment to his wife Katie–who suspected that his lengthy absences were due to a secret drug habit–and to his son Zack, his police officer brother Jack and his boss Hugh. On Dan's part, he couldn't help but notice that his forays into the Past always took place within his own range of experience, and always ended up benefiting someone with whom he was acquainted in the Present. Further confusing Jack were the frequent materializations of his lost love Livia, who had died in a 1998 plane crash–and who, when Jack tried to prevent this tragedy, sternly warned him NOT to try to change history. Journeyman debuted September 24, 2007.