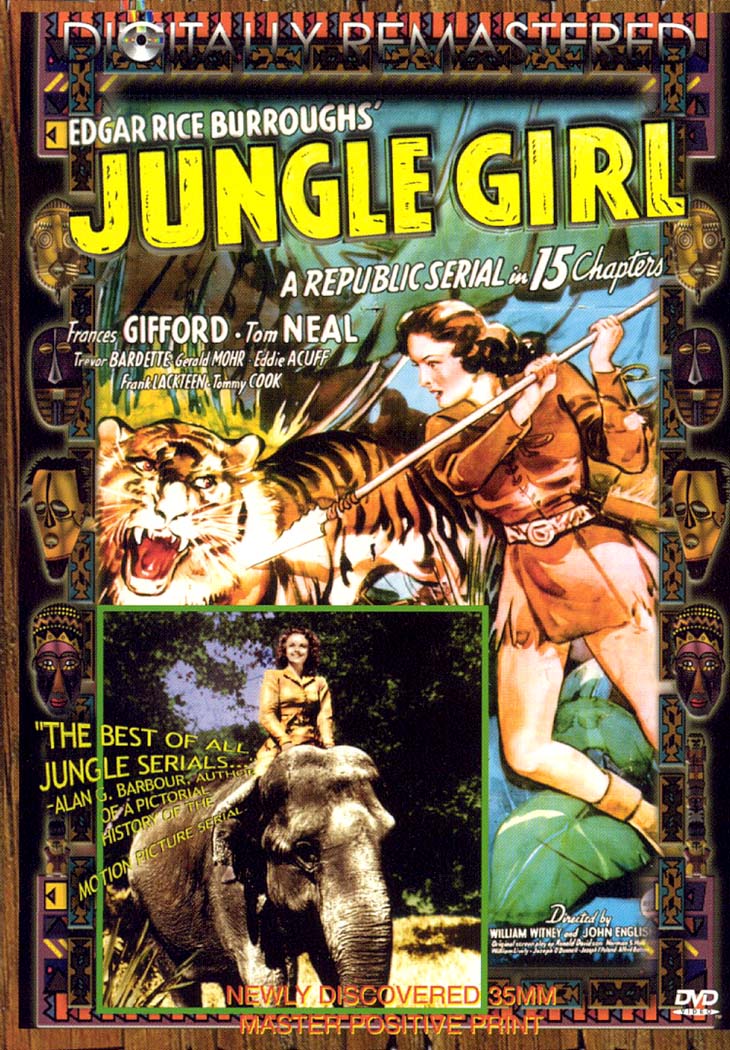 Movie:
Jungle Girl [Serial]
Director:
John English / William Witney
Produced by:
–
Released By:
Republic
MPAA Rating:
–
Unavailable for decades, this 15-chapter serial from Republic Pictures was finally re-released on video tape in the late 1990s. Based on a story by Tarzan creator Edgar Rice Burroughs, Jungle Girl featured former Paramount starlet Frances Gifford as Nyoka, a white girl raised by her father, Dr. Meredith, among the savages of Darkest Africa. But the good doctor is mercilessly bumped off by his identical twin, who along with American gangster Slick Latimer and Curly Rogers who, again and again, are forced to rescue either Nyoka or each other from the evil machinations of both the girl's uncle and nasty witch doctor Shamba. Miss Gifford, suffice it to say, is attractive if not much of an actress this early in her career, while Neal, who is best remembered today as the unfortunate protagonist in the noir classic Detour, appears customarily dashing. Comic relief is provided by Acuff, who is never too tiresome, and Frank Lackteen adds his patented exotic villainy. All in all, if the viewer can get past the natives' fright wigs a la Harpo Marx, an overly cute child actor who speaks pidgin-English and the build-in repetitiveness typical for action serials, there is much to enjoy, including eye-popping acrobatic stunts performed by the likes of Yakima Canutt, David Sharpe, Tom Steele and Carol Thurston, the latter doubling for Gifford. Jungle Girl was successful enough to warrant a sequel but by the time Perils of Nyoka was ready to go before the cameras, Frances Gifford had become unavailable and was replaced by former Powers model Kay Aldridge. In typical serial fashion, footage from both chapterplays ended up in Panther Girl of the Kongo, starring Phyllis Coates in a skimpy yet tasteful outfit identical to those worn by her predecessors.