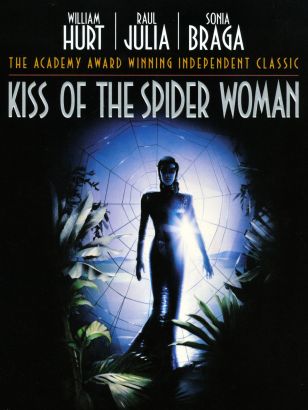 Movie:
Kiss of the Spider Woman
Director:
Hector Babenco
Produced by:
HB Filmes, Island Alive, Sugarloaf Films
Released By:
–
MPAA Rating:
R
Political prisoner Valentin Arregui and homosexual pederast Luis Molina share a Brazilian prison cell in this fantastical drama from the book by Manuel Puig. Sensitive and flamboyant, Molina helps pass the time by recounting memories from one of his favorite films, a wartime romantic thriller that just may also be a Nazi propaganda film. He weaves the characters into an ongoing narrative meant to spur Valentin's imagination and distract him from the brutal realities of political imprisonment and separation from the woman he loves. Hard around the edges, and willing to die for his political principles, Valentin nonetheless allows Molina to penetrate some of his defensive shell. An odd friendship forms between the two vastly different prisoners, the dreamer and the activist. As the narrative unfolds, it becomes clear that Valentin is being poisoned by his captors, to compel him to reveal names and secrets, and that Molina may have other agendas that belie his honesty and openness with Valentin. The intense character study builds toward a surprising conclusion. Kiss of the Spider Woman received Oscar nominations for best picture, best director and best adapted screenplay, and Hurt took home the best actor trophy for his portrayal of the soulful and conflicted Molina. The film was later adapted into a Broadway musical.