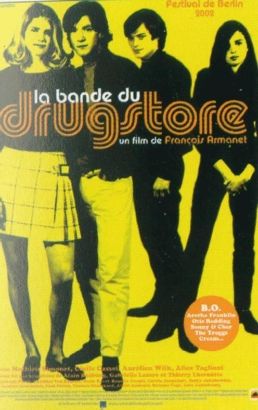 Movie:
La Bande du Drugstore
Director:
Francois Armanet
Produced by:
3B-Prods., Canal Plus, France 2 Cinema
Released By:
–
MPAA Rating:
–
La Bande de Drugstore is the debut feature from writer/director Francois Armanet, who adapted the script from his own novel. Set in Paris during the 1960s, a group of stylish teenagers hang out at a club called the Drugstore. Shy Philippe Challes wants to meet a girl but he doesn't know how to go about it. Experienced Nathalie invites him and his friend Marc to the birthday party of the also quite shy Charlotte. Philippe and Charlotte develop a strong interest in each other, but neither one seems to know what to do about it. Philippe also tries to pick up girls with his friend Pierre, while Nathalie finds herself attracted to Charlotte's father. The '60s pop rock soundtrack features Aretha Franklin, Sonny & Cher, and Otis Redding.