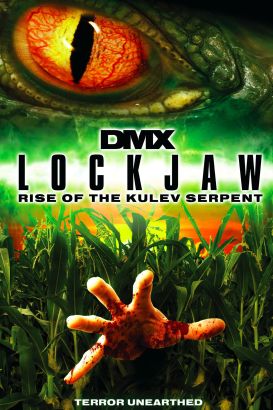 Movie:
Lockjaw: Rise of the Kulev
Director:
Amir Valinia
Produced by:
Dirty District Entertainment, K2 Entertainment, Most Wanted Films
Released By:
Barnholtz Entertainment, North American Motion Pictures
MPAA Rating:
R
A young boy from an abusive home steals an ancient demonic writing tool, only to learn that vengeance dies hard after conjuring a killer serpent that eats his father alive. Alan Cade was ten years old and frightened. His father was a violent alcoholic, and in order to avoid contact, Alan and his best friend Becky would embark on long adventures though the local forests and farmhouses. On one such excursion, Alan and Becky wandered into the dilapidated hut of Crazy Kirabo, an elderly voodoo priest. Before leaving, Alan swiped a box containing the Kulev Stick, an evil drawing tool used for revenge. Returning home to find his father in a drunken rage, Alan draws a giant serpent and is shocked to see the creature slither out from the earth and bite off his father's head. Terrified, Alan buries the Kulev Stick in the ground near their home. Flash forward 20 years, and Alan is married to Becky and living in his childhood home. When Becky is accidentally killed by a group of reckless, vacationing teens, the grieving Alan uses the Kulev Stick to awaken the bloodthirsty serpent once again. Now, as the serpent begins killing the vacationing teens, it's up to Crazy Kirabo's grandson Nick, an Army special ops veteran, to destroy the creature and break the cycle of vengeance.