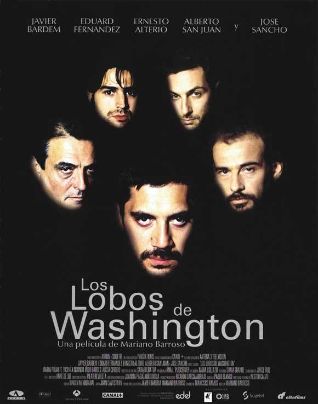 Movie:
Los Lobos De Washington
Director:
Mariano Barroso
Produced by:
Aurum Producciones, Pinguin Films, Sogetel
Released By:
Alta Films
MPAA Rating:
–
A dark, noir-styled thriller with flashes of edgy wit, Los Lobos de Washington looks at a pair of low-level hoods who unknowingly betray each other on the way to a big score. Miguel and Alberto both used to work for Claudio, a car dealer notoriously tight with his money. Alberto is a soft-hearted slob who, since his recent divorce, has been sharing his dumpy apartment with Pablo, a sad sack whom Alberto befriended when he found him lost on the subway. Miguel, on the other hand, has a way with words and has been using them on Alberto's ex, Sara, even though she's in the hospital and Alberto still carries a torch for her. When Miguel and Alberto discover that Claudio needs someone to help him launder 20 million pesetas, they offer to help him out, with the intention of pocketing a large chunk of the cash. Claudio gives the pair the money, and they hit the road, but to Alberto's surprise Miguel kicks him out of the car, intending to pick up Sara and run off. Alberto immediately calls Claudio to tell him what happened before heading to the hospital to visit Sara. Soon Miguel and Alberto are both in for a surprise — Claudio has kidnapped Sara and is holding her hostage to insure he gets his 20 million pesetas back.