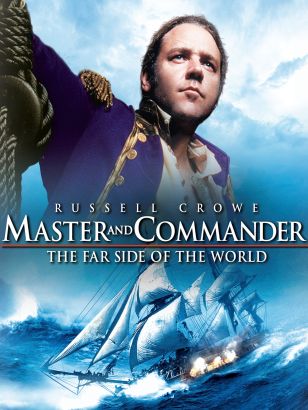 Movie:
Master and Commander: The Far Side of the World
Director:
Peter Weir
Produced by:
Miramax Films, Samuel Goldwyn Films, Universal Pictures
Released By:
20th Century Fox
MPAA Rating:
PG13
Director Peter Weir's first turn behind the camera since 1998's critically acclaimed The Truman Show, Master and Commander: The Far Side of the World is based on two Napoleonic War-era adventure novels in author Patrick O'Brian's Aubrey/Maturin series, Master and Commander and The Far Side of the World. Russell Crowe stars as Captain Jack Aubrey, a high-seas adventurer who maintains a strong bond with ship-surgeon Stephen Maturin. After conquering much of Europe already, Napoleon's forces have set their sights on taking Britain, so Aubrey and the crew of his ship, the HMS Surprise, take to the Pacific to intercept any attacking ships from the French fleet. When Aubrey eyes a renegade French super-frigate, the Surprise pursues, leading to an adrenaline-charged chase through the distant reaches of the sea. Edward Woodall, James D'Arcy, and Lee Ingleby also star as members of the Surprise's crew.