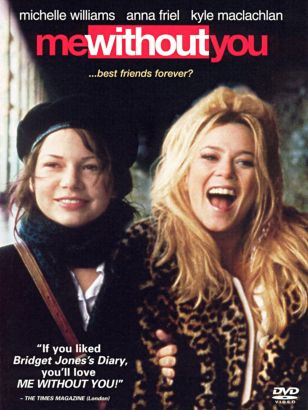 Movie:
Me Without You
Director:
Sandra Goldbacher
Produced by:
British Screen, BSkyB, Dakota Films, Finola Dwyer Productions, Momentum Pictures, Road Movies Filmproduktion
Released By:
IDP Distribution, Isle of Man Film Commission
MPAA Rating:
R
The joys and horrors of female friendship are explored in writer/director Sandra Goldbacher's Me Without You. Bold, brash, and fashionable Marina comes from a broken home. Her mother, Linda is a hip young divorcée who apologizes every time she yells at her children. Holly is a timid bookworm, mildly ashamed of her Jewishness, and easily goaded into more outrageous behavior by Marina. Holly's mother tells her early on not to expect too much from men. She helps lower her daughter's expectations by telling her, "Some people are pretty people, and some are clever people, which is more important than looks." As girls in the early '70s, Marina and Holly form a pact to become "Harina," inseparable best friends. Next-door neighbors, they are never apart for long. But Holly harbors a secret crush on Marina's older brother, Nat, and when the girls are teens, and Marina finds out about Holly's feelings, she does her best to keep the two apart. In college, when Holly bonds with a lit-crit professor, Daniel, over Andrei Tarkovsky and Ingmar Bergman, Holly feels compelled to sabotage their budding relationship, by seducing Daniel first. Eventually, Nat, despite his lingering fondness for Holly, gets seriously involved with a French actress, Isabel. As the girls get older, their differences become more apparent to Holly, and she begins to question their friendship. The film covers three decades, with songs and costumes appropriate to each era.