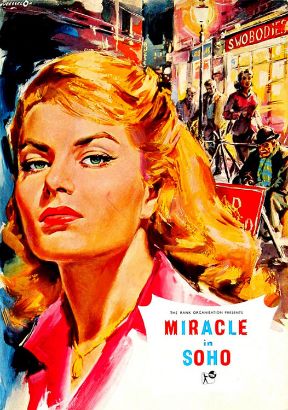 Movie:
Miracle in Soho
Director:
Julian Amyes / Fred Zinnemann
Produced by:
J. Arthur Rank Productions, Rank Organisation
Released By:
–
MPAA Rating:
–
London's colorful but rundown Soho district is the setting for this thinnish romantic comedy. John Gregson plays a Soho roadworker who has little hopes of finding happiness in life. Belinda Lee is a like-minded barmaid in a tiny pub. Gregson and Lee discover each other, and the "miracle" happens. The script was written by Emeric Pressburger, who apparently was so accustomed to "big" projects like The Red Shoes that he couldn't scale himself down to the genuine emotions of normal people. Too, Miracle in Soho cries out for location filming, but the producers insisted upon lensing the story in the most unconvincing of studio sets.