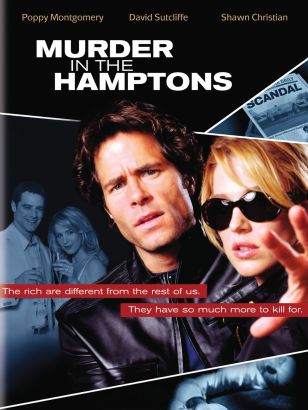 Movie:
Murder in the Hamptons
Director:
Gerard Ciccoritti
Produced by:
Robert Greenwald Productions
Released By:
Lifetime
MPAA Rating:
–
Produced for the Lifetime channel, the made-for-cable Murder in the Hamptons uses the titular 2001 murder, that of multimillionaire investment banker Ted Ammon, as the starting point for a lengthy flashback beginning in 1995. It was during that year that Ammon met and married Generosa Rand, a talented and temperamental artist. As Ammon's fortune grew, so did the couple's conspicuous consumption, as manifested in a huge, castle-like estate in Long Island, the family itself also expanded, with Ted and Generosa adopting two children. Unfortunately, with each passing year, this "ideal" marriage became less so, with Generosa exhibiting some mighty peculiar behavior, her neuroses and insecurities causing her to fly off the handle at the least provocation. During the inevitable divorce proceedings, Generosa demands that Ted relinquish both the mansion and their children — and she also launches into an affair with electrician Danny Pelosi, who has a criminal record. When Ted is found murdered, suspicion immediately falls upon Danny, though no tangible evidence is available. Ultimately, Generosa marries Danny — only to leave him as well when she is diagnosed with terminal cancer. Evidently undergoing numerous epiphanies in her final months, Generosa begins to let go of the many things she held dear during and after her marriage — but if she knows anything about Ted's death, it is a secret she will carry to the grave. How justice is ultimately served figures into the climax of Murder in the Hamptons, which first aired on July 11, 2005.