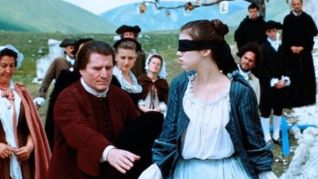 Movie:
Night Sun
Director:
Paolo Taviani / Vittorio Taviani
Produced by:
Capoul, Direkt Film, Filmtre, Interpool, RAI 1, Sara Films
Released By:
–
MPAA Rating:
–
In this film, Tolsoy's classic story Father Sergius is translated from 19th century Russia to 19th century Italy. As in the original story, Sergio is a nobleman and a military cadet who is posted in a position close to the throne. He is about go through with an arranged marriage linking him with a higher-ranking noblewoman when he discovers that she has been the King's mistress. Disgusted, he renounces the world and becomes a churchman and a hermit. At his hermitage, he encounters a woman who considers any priest, especially an ascetic one, fair game. She attempts to seduce him and he nearly succumbs, narrowly avoiding that fate by chopping off a finger, in a scene harking back directly to the 1918 Russian silent classic Otets Sergey. Soon after that, he begins to acquire a reputation as a miracle worker. However, by now he has succumbed to his ever-present demon of sexual temptation in the form of a conniving young girl, and he knows he is not worthy of the adulation he is receiving. Devastated by his lapse, he leaves the hermitage and wanders around Italy as a homeless beggar.