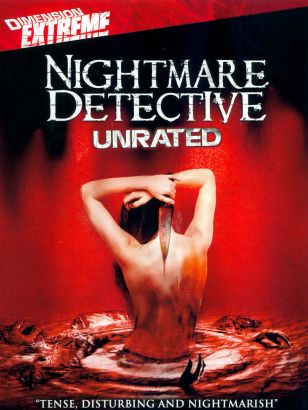 Movie:
Nightmare Detective
Director:
Shinya Tsukamoto
Produced by:
Kaijyu Theater, Movie-Eye Entertainment
Released By:
Movie-Eye Entertainment
MPAA Rating:
–
Visionary Japanese director Shinya Tsukamoto returns to the helm with this bleak tale of a supernaturally gifted serial killer with the power to enter his victim's dreams, and the mysterious "Nightmare Detective" who provides the only hope of loosening the maniac's murderous grip on dreamland. Detective Keiko Kirishima was an academic criminologist whose interest in detective work soon found her gravitating into homicide fieldwork. Upon being assigned to investigate a recent rash of suicides in which the victims seem to have slashed themselves to death while sleeping, Keiko observes a strange connecting factor — each victim's phone displays "0" as the last number dialed before their grisly demise. Encouraged by her superiors to view the case from a paranormal perspective, Keiko soon learns of a man named Kyoichi Kagenuma, who is said to be able to enter the dreams of others while analyzing the thoughts of his slumbering subjects. Despite his initial reluctance to get involved in the case, Kyoichi soon finds his resolve put to the ultimate test when the desperate Keiko dials "0" in a suicidal, last-ditch effort to capture the elusive killer.