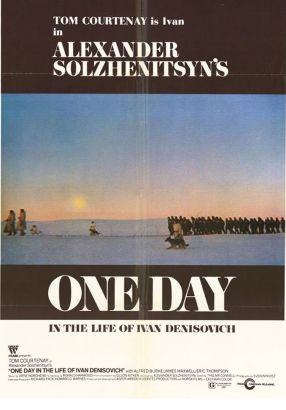 Movie:
One Day in the Life of Ivan Denisovich
Director:
Caspar Wrede
Produced by:
Cinerama, Group B Films, Leontes, Norsk Films
Released By:
–
MPAA Rating:
–
Alexander Solzhenitsyn's novel about brutal individual survival in a Russian labor camp in the 1950s is brought to the screen in this stark and spare adaptation by director Caspar Wrede, writer Ronald Harwood, and cinematographer Sven Nykvist. Tom Courtenay is Ivan, who is a prisoner in the eighth year of a ten-year sentence at a Siberian labor camp. Ivan's day consists of small accomplishments that enable Ivan to retain his humanity during conditions of extreme oppression — he does not get sick, he grabs an extra smoke, he discovers a saw, and he helps to work on a concrete wall. When he prepares for sleep, Ivan is contented that the guards have not beaten him and that he has gotten through the day in one piece. And tomorrow morning, Ivan must start all over again.