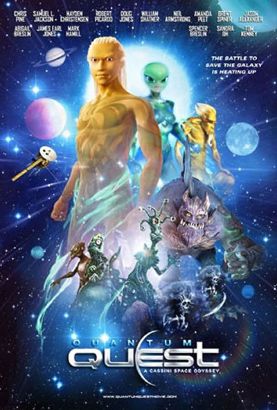 Movie:
Quantum Quest: A Cassini Space Odyssey
Director:
Harry "Doc" Kloor / Daniel St. Pierre
Produced by:
–
Released By:
–
MPAA Rating:
–
Computer animation combines with actual footage from NASA/ESA space missions to tell the tale of Dave, a simple photon on a serious mission. Dave likes it on the sun, and doesn't see any reason to venture out into the vast, cold darkness of space. When The Void dispatches his three top officers on a mission to destroy everything in the cosmos comprised of matter, however, it's up to Dave to prevent the universe from becoming an enormous black hole. And he won't be alone on his daring mission, because at the center of the sun dwells The Core, a benevolent being who summons the strongest photons and neutrinos at his disposal to aid Dave in his battle against the dreaded Void. Quantum Quest also features the voices of Samuel L. Jackson, Neil Armstrong, James Earl Jones, Abigail Breslin, Brent Spiner, Doug Jones, and Jason Alexander.