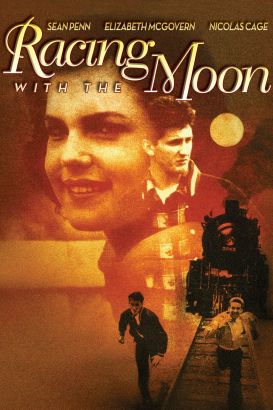 Movie:
Racing with the Moon
Director:
Richard Benjamin
Produced by:
Jaffe-Lansing Productions, Paramount
Released By:
–
MPAA Rating:
PG
Sean Penn graduated to full stardom with the 1984 drama Racing with the Moon, even though the film itself hardly set new box office records. Set in the early years of World War II, the film stars Penn as a small-town teen-aged hotshot, six weeks away from being shipped out to fight overseas. In the meantime, Penn begins to date Elizabeth McGovern, whom he assumes is from a wealthy family. Penn's pal Nicolas Cage, who's gotten his girlfriend Suzanne Adkinson pregnant, imposes upon Penn to hit up McGovern for the abortion money. That's when Penn discovers that the girl barely has a penny to her name. Convinced that Penn cared for her only when he thought she was rich, McGovern walks out on him, but later teams up with Penn to help the unfortunate Adkinson. The plot is pure James Dean, a fact not lost on fans who regarded Sean Penn as the second coming of Dean. A very slight piece, Racing with the Moon is buoyed by the engaging performances of the stars, and by director Richard Benjamin's meticulous attention to period detail-especially in those peerless bowling-alley and skating-rink sequences.