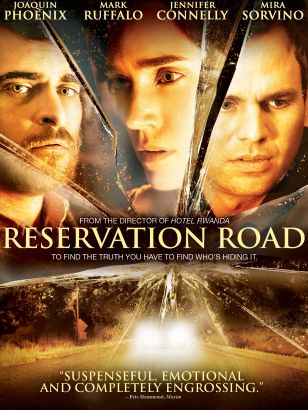 Movie:
Reservation Road
Director:
Terry George
Produced by:
Miracle Pictures, Twins Financing LLC, Volume One Entertainment
Released By:
Focus Features, Random House Films
MPAA Rating:
R
The lingering weight of tragedy threatens to pull two men under following a harrowing hit-and-run accident in a quiet revenge drama directed by Terry George and starting Mark Ruffalo and Joaquin Phoenix. When his son is killed in an unsolved hit-and-run accident, a grieving father spends his waking hours seeking vengeance against the man who perpetrated the deadly crime. It was a warm September evening when college professor Ethan Learner, his wife, Grace, and their daughter, Emma, went to see Emma's ten-year-old brother, Josh, play cello at a recital. As usual, Josh's performance is superb and the rest of his family wells up with pride. Later, a chance stop at a gas station on Reservation Road results in a tragedy that will leave the surviving members of the family forever broken. On that same evening, hours earlier, law associate Dwight Arno takes his 11-year-old son, Lucas, to see a Red Sox game. The loving father cherishes the time spent with his young son, and the pair hope to watch their favorite team pave a road to the World Series. When the game ends, Dwight prepares to drop Lucas off with his mother, Ruth — who is also Dwight's ex-wife. On the way home, Dwight and Lucas stop at a gas station on Reservation Road. There, the accident happens in a flash — so fast that Lucas never even realized what his father had done. But this crime wasn't without a witness, because Ethan watched every horrifying second of the tragedy unfold with his own eyes. As the police are called and the investigation ensues, everyone involved responds to the incident in their own ways, and two grief-stricken fathers are faced with making the hardest decisions of their lives.