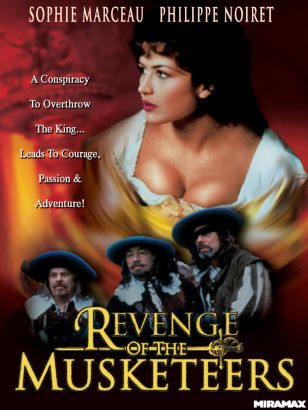 Movie:
Revenge of the Musketeers
Director:
Bertrand Tavernier
Produced by:
CiBy 2000, Franco London Films, Little Bear Films
Released By:
Bac Films
MPAA Rating:
R
A brave and resourceful young woman keeps the spirit of the Three Musketeers alive in this historical adventure. Eloise is the daughter of the famed swordsman D'Artagnan, while she has a remarkable gift with a blade herself, Eloise is devoting herself to her studies at a convent. However, when a slave escapes from the estate of the evil Duke of Crassac and seeks refuge in the convent, the Mother Superior is murdered in retaliation by the Duke's soldiers. In the midst of the attack, Eloise learns that the Duke and his men have even more dastardly plans in store, the murder of the Mother Superior is part on an ongoing scheme to throw the nation into disarray, making it easier for the Duke to overthrow the King and seize power. Joined by Quentin, a poet, Eloise sets out to call her father and his old compatriots to action to stop the Duke, however, D'Artagan, who now lives a quiet life teaching fencing, isn't so sure he wants to wage a battle against the insurgent forces, no matter how awful they may be. La Fille de d'Artagnan was released in the United States as Revenge of the Musketeers, leading lady Sophie Marceau does her own fencing on screen.