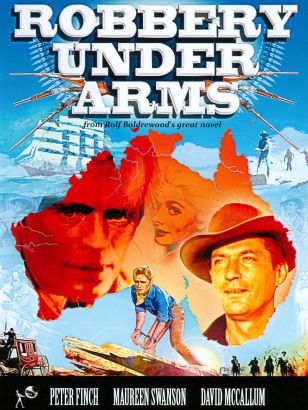 Movie:
Robbery Under Arms
Director:
Donald Crombie / Ken Hannam / Jack Lee
Produced by:
ITC Entertainment, J. Arthur Rank Productions
Released By:
–
MPAA Rating:
–
One of several feature film versions of the late 19th century novel by Rolf Boldrewood, this frontier adventure is set not in the Wild West of the U.S., but in the equally untamed Australian Outback of the same era. Two brothers, Jim and Dick Marsten follow in their father's footsteps by leaving home to seek adventure as gunfighters. They become outlaws in the roving band led by stylish Captain Starlight, who leads them on a series of escapades robbing banks and rustling cattle. Though they find the excitement and romance they craved, the Marstens soon become disillusioned with a life on the run and begin to wish that they could resume the mantle of honest, hard-working citizens. Unfortunately, events transpire to put the entire Starlight gang out of operation before the brothers can recommence their formerly law-abiding ways. Produced by Britain's Rank Organization, Robbery Under Arms was followed by a television series remake in 1985 and a handful of other films set against the colorful backdrop of the Australian frontier, including The Man from Snowy River and Quigley Down Under.