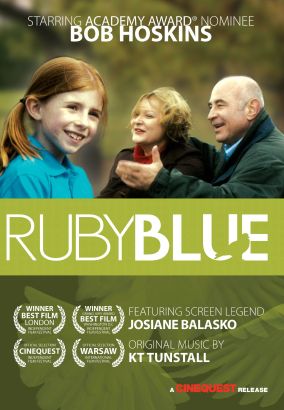 Movie:
Ruby Blue
Director:
Jan Dunn
Produced by:
Medb Film, Old Vic Prods., Pink Sand Films
Released By:
Target Entertainment
MPAA Rating:
–
An elderly man's friendship with a young girl is viewed with suspicion both those around him in this drama from British filmmaker Jan Dunn. Jack has never been an especially good natured man, but after the death of his wife he sinks into a deep depression, rarely leaving the house, losing interest in cleaning and neglecting the racing pigeons that used to be his pride and joy. While Jack's new neighbor Stephanie tries to bring him out of his shell with her tasty French cooking, he develops a new lease on life when single mother Stacey asks him to look after her nine-year-old daughter Florrie. While Jack insists he doesn't especially like children, he unexpectedly bonds with Florrie and the two become friends. Jack's paternal side comes to the surface, and he takes neighborhood teen Ian under his wing when he sees the lad taking a path towards delinquency. But when Florrie disappears under mysterious circumstances, some folks begin to wonder if Jack's friendship with her is entirely innocent. Ruby Blue received its American premiere at the 2008 Cinequest Film Festival in San Jose, California.