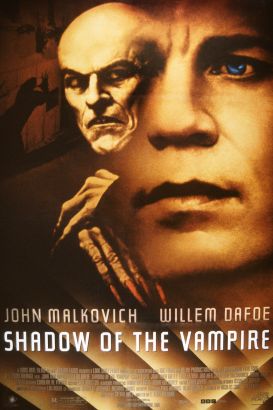 Movie:
Shadow of the Vampire
Director:
E. Elias Merhige
Produced by:
BBC, Delux Productions, Longshot Productions, Saturn Films
Released By:
Lions Gate Films
MPAA Rating:
R
The torturous production of the classic 1922 vampire film Nosferatu is recreated in this stylized account of director F.W. Murnau and his obsession with creating realistic horror by any means necessary — even if those means include actual bloodletting. The film begins as Murnau is ready to take his unauthorized interpretation of the Bram Stoker tale on location in Czechoslovakia. There, the director has arranged for his cast and crew to live in the same castle in which they will shoot their parts, as they all wait for their co-star, Max Schreck — Murnau's choice to play Count Orlok — to arrive. Their leader has warned them that Schreck is a student of the Stanislovsky method of performance and will not respond to them out-of-character. Nothing, however, can prepare them for the real thing: when the actor arrives, he's already in full Gothic regalia, asserting that he is indeed a vampire. Schreck makes good on his claims by terrorizing the cast and crew, attacking Murnau's original cinematographer and plucking bats out of the air for midnight snacks. Director E. Elias Merhige previously made his name with his experimental theater productions and with his horrific film school thesis, Begotten.