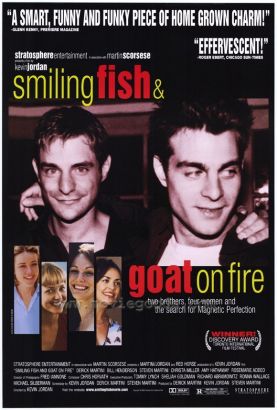 Movie:
Smiling Fish & Goat On Fire
Director:
Kevin Jordan
Produced by:
Red Horse Films
Released By:
IDP Distribution, Stratosphere Entertainment
MPAA Rating:
R
Two brothers look for love under unusual circumstances in this independent comedy. Chris Remi and his brother Tony have an unusual family background: their parents, an Italian-American man and a Native-American woman, met on a tour of a Hollywood studio, and their Grandmother bestowed on them semi-traditional American Indian names, "Goat on Fire" and "Smiling Fish." These days, high-strung Chris and good-natured Tony share the house they grew up in following their parents' death in a traffic accident. Chris is having problems with his girlfriend Alison, who bursts into tears whenever they have sex, meanwhile, Tony's girlfriend Nicole is ready to give Tony his walking papers if he can't straighten himself out, though he's already got his eye on Kathy, who delivers the mail in his neighborhood. Chris, who works for an accounting firm, is asked one day by his boss to pick up his Uncle Clive from the airport. Clive used to work as a soundman for a independent African-American film company in the 1940s, he loves to reminisce about the old days and compares love to capturing "the perfect magnetic wave." Clive proves to be a romantic catalyst when Chris meets Anna, an Italian immigrant who trains animals, and a fast friendship looks like it could grow into something more. The feature-film debut for Martin Scorsese protege Kevin Jordan, Smiling Fish and Goat on Fire won the Film Discovery at the 1999 Toronto Film Festival.