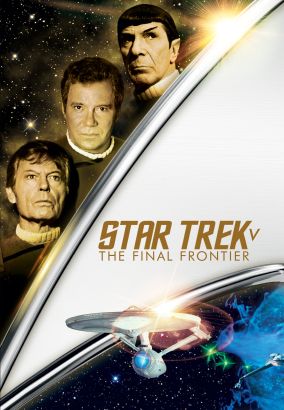 Movie:
Star Trek V: The Final Frontier
Director:
William Shatner
Produced by:
Harve Bennett Productions, Paramount
Released By:
Paramount
MPAA Rating:
PG
Kirk, McCoy, and Spock are enjoying a vacation in Yosemite National Park when duty calls. Vulcan cult leader Sybok and his followers have invaded a "planet of peace," where delegates from hostile races coexist in a sort of intergalactic United Nations. Ordered to quell the crisis, the Enterprise crew discovers that it's a ruse perpetrated by Sybok, who takes over the ship, piloting it toward the "Great Barrier," an energy field at the galaxy's rim. Sybok, who is revealed to be Spock's half-brother, possesses the ability to help people face their "inner pain." He also believes that God lies beyond the Great Barrier. Once arriving there, however, Sybok and the Enterprise crew discover only an imprisoned alien entity. Shatner wrote the story and made his directorial debut with the film, failing to ape the success that his colleague Nimoy enjoyed with his pair of Trek directing forays.