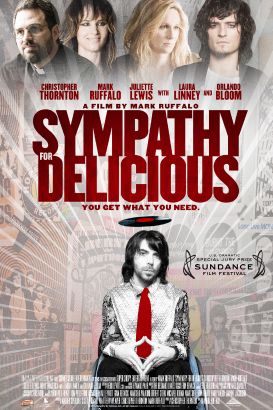 Movie:
Sympathy for Delicious
Director:
Mark Ruffalo
Produced by:
Corner Store Entertainment, Super Crispy Entertainment
Released By:
Maya Entertainment
MPAA Rating:
R
Dean O'Dwyer DJs in L.A. using the stage name "Delicious D." He' on the verge of stardom when a motorcycle accident leaves him completely paralyzed, and his dreams go up in smoke. Subsequently sinking into a deep depression while living out of his car on Skid Row, Dean takes the plunge into the world of faith healing after a chance encounter with Father Joe Roselli. In what can only be described as a miracle, Dean soon learns that he possesses a healing touch. Strangely, despite this power, Dean still remains bound to his wheelchair — a prisoner in his own body. Furious, Dean rejects religion in favor of fame, and instead uses his newfound power to make a fortune in a volatile rock band fronted by "The Stain". Academy Award nominee Mark Ruffalo makes his feature directorial debut with this inspirational drama co-starring Juliette Lewis and Laura Linney.