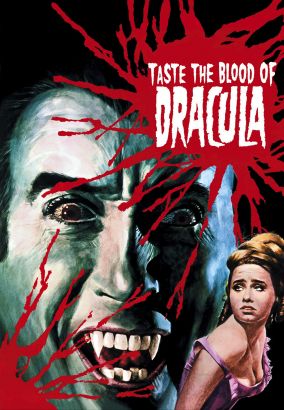 Movie:
Taste the Blood of Dracula
Director:
Peter Sasdy
Produced by:
Hammer Films, Pathé Films, Warner Brothers
Released By:
–
MPAA Rating:
PG
One of the more accomplished entries in Hammer's Dracula series, this fourth installment finds Christopher Lee in top form as the Count, who returns to menacing life after three middle-aged swingers decide to dabble in black magic to bolster their sagging sex lives. Dracula is reborn when the trio's blood-drinking rituals lead to the destruction of his devil-worshipping colleague Lord Courtley, whereupon the Count unleashes his deadly wrath on those responsible, even involving members of their families in his scheme of revenge, which culminates in a dramatic finale in a recently reconstructed cathedral. Fine direction from Hammer regular Peter Sasdy enlivens a middling script, and an early appearance from the lovely Linda Hayden is a definite plus.