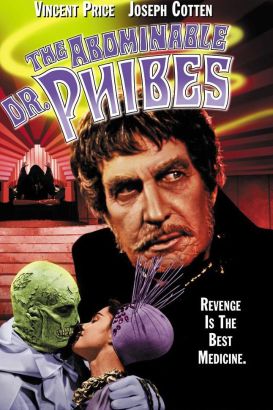 Movie:
The Abominable Dr. Phibes
Director:
Robert Fuest
Produced by:
American International Pictures
Released By:
–
MPAA Rating:
–
Long thought dead, the victim of a horrible accident, Dr. Anton Phibes still lives, surrounded by art-deco bric-a-brac and attended by mute beauty Vulnavia. Outwardly normal in appearance, Phibes actually wears a rubber mask, covering his hideously deformed countenance, giving away the artifice is the fact that, when he dines, he takes his food through his neck rather than his mouth. Able to speak only when plugging a wire into his damaged vocal chords, Phibes elucidates his plan to murder the medical team whom he holds responsible for the death of his wife. Each of the killings is patterned after the ten deadly plagues. Phibes saves his worst for last: trapping chief surgeon Dr. Vesalius in his lair, Phibes forces the hapless medico into a race against time to save the life of his own son.