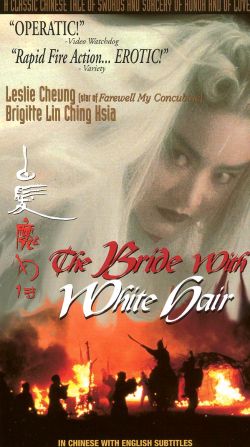 Movie:
The Bride with White Hair
Director:
Philip Kwok / Ronny Yu
Produced by:
Mandarin Films, Yes Pictures
Released By:
–
MPAA Rating:
–
Following on the success of 1987's Chinese Ghost Story, Hong Kong was inundated with romantically themed tales of the supernatural. Most were awful, but Ronny Yu's The Bride With White Hair has become a classic of the genre. Based on a two-volumed 1954 novel written by Leung Yu-Sang, the film tells the story of star-crossed lovers and bloody conflict. The two meet when Lian, a beautiful sorceress who was raised by wolves, saves young warrior Zhuo Yi-Hang from a pack of hungry animals. Though she disappears before he can thank her, Zhuo is entranced. Later Zhuo becomes a master swordsman with the Wu Tang Clan, a tight-knit martial arts society dedicated to the villainous Ji Wu-Shuang, a mutant half-man, half-woman creature who rules the land with an iron fist. Though Zhuo is more interested in quiet life of contemplation, the clan elders see Zhou as their best weapon against their evil King/Queen. Meanwhile, Lian has grown into a formidable adversary herself — especially with the use of her trusty whip, which can slice a man in two. She has been recruited by Ji to thwart the rebels. In the midst of battle, Zhou and Lian meet. Ji — who secretly lusts for Lian — orders her to kill Zhuo. She refuses, much to his displeasure, and orders her tortured to within an inch of her life. Zhuo discovers Lian's semi-conscious body and nurses her back to health. The two soon fall passionately in love and vow to always trust one another. Unfortunately, Ji's black magic revenge spoils the lovers' new-found bliss.