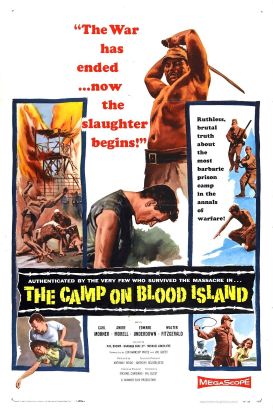 Movie:
The Camp on Blood Island
Director:
Val Guest
Produced by:
Columbia Pictures, Hammer Films
Released By:
–
MPAA Rating:
–
For some reason, this Hammer Studios war melodrama was singled out for constant ridicule by the Monty Python troupe. The story is set at a brutal Japanese POW camp, where sadism is a way of life. The evil commandant has sworn to wipe out all the inmates if Japan loses the war. The English prisoners know that this has already happened, thus they're forced to keep the news secret from their captors-at least until they can stage a daring escape. The portrayal of the Japanese race in Camp on Blood Island is hardly conducive to the cause of political correctness.