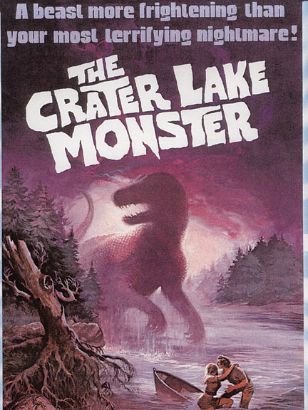 Movie:
The Crater Lake Monster
Director:
William R. Stromberg
Produced by:
Crown International Pictures
Released By:
–
MPAA Rating:
PG
This bargain-basement dinosaur romp finds a backwoods community terrorized by a massive plesiosaur, aroused from its hibernation at the bottom of Crater Lake by a meteorite impact. A dull police manhunt subplot drags things down in the second act, but there's some cheesy fun to be had as long as David Allen's lumbering stop-motion beastie is onscreen, munching down on the locals like a lumpy, waterlogged beast from 20,000 Fathoms. This drive-in favorite is notable mainly as an example of the burgeoning stop-motion animation skills of Allen, whose career ranged from TV commercials to steady feature work under the aegis of producer Charles Band, with whom he collaborated on numerous productions.